Principles of Health and Safety within the Workplace level 2 (RQF)
This qualification is designed to provide learners with knowledge of the basic health and safety practices essential in the workplace.
The objective of the qualification is to:-
prepare learners to progress into further/higher level training
Support a role in the workplace
The qualification provides learners with an understanding of the responsibilities and employers and employees, the benefits of good health and safety, steps to a risk assessment, common causes of and how to reduce accidents, near misses and ill-health, typical hazards and controls in the workplace, emergency procedures and the importance of recording accidents, near misses and ill-health occurrences.
The is suitable for learners aged 14+ and has one mandatory unit to complete.
It is assessed by a multiple-choice examination, where the learner must answer at least 12 out of 20 questions correctly.  The examination will take a maximum of 45 minutes to complete.
The Highfield Level 2 Award in Health and Safety within the Workplace (RQF) has been developed and is awarded by Highfield Qualifications and sits on the Regulated Qualifications Framework (RQF). The RQF is a qualification framework regulated by Ofqual. It is also suitable for delivery in Wales and is regulated by Qualifications Wales.
Scheduled Dates Principles of Health and Safety within the Workplace level 2 (RQF)
In-house at clients premises
price on enquiry
Book Course
Course Summary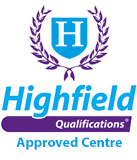 Qualification:
Principles of Health and Safety within the Workplace level 2 (RQF)
Duration: 1 day
Useful Information:

Course Enquiry