Safe Moving and Handling level 2 (RQF)
This qualification is an introduction to moving and handling activities for those starting work, returning to work or who need specific training in manual handling, as well as being a suitable qualification for refresher training.
Learners gaining this qualification will understand that moving and handling must be carried out correctly and will recognise its importance in ensuring a safer working environment.
Subjects covered include the reasons for safe manual handling, manual handling risk assessments principles, types of equipment and testing requirements associated with manual handling safety.
The qualification is assessed in two parts.
Part 1 Can be assessed by either of the following methods:
Multiple-Choice Question (MCQ) Examination – Learners must answer a series of multiple-choice questions across the breadth of the course syllabus within a 30-minute time frame.
Learner Assessment Pack – Learners must provide a short response to questions across the breadth of the course syllabus throughout the duration of the course.
Part 2 Is assessed by Practical Assessment.
This qualification is approved for delivery to learners aged 14+.
The Highfield Level 2 Award in Safe Moving and Handling (RQF) has been developed and isawarded by Highfield Qualifications and sits on the Regulated Qualifications Framework (RQF).
The RQF is a qualification framework regulated by Ofqual and CCEA Regulation. It is also suitable for delivery in Wales and is regulated by Qualifications Wales.
Scheduled Dates Safe Moving and Handling level 2 (RQF)
07/09/2018
Advent House, Victoria, Cornwall PL26 8LG
£135 + VAT
Book Course
In-house at client's premises
price on enquiry
Book Course
Course Summary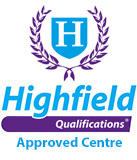 Qualification:
Safe Moving and Handling level 2 (RQF)
Duration: 1 day
Useful Information:

Course Enquiry